I have compiled a list of my favourite books I have read this year. I am so happy that I have been able to read 53 books in total this year, and it still freaks me out. This has been such a great year of reading, and I hope next year is too. So in sort of order...
10. Where She Went by Gayle Forman
The sort-of-sequel to
If I Stay
,
Where She Went
is from Adam's perspective as he visits New York and runs into his ex-girlfriend, Mia, as she performs a concert. The two go on a journey of the city, reflecting on their time together and apart. A more well-rounded novel than the original. Loved the city.
9. Legend & Prodigy by Marie Lu
Putting two books in a series together? I think that's allowed.
Legend
and
Prodigy
are great, easy to read dystopian novels set in a futuristic Los Angeles in the Republic of America. The plot follows the characters June and Day as they face the truths of the political situation they have found themselves in, as well as with each other. I just finished
Champion
, the final book (in 2014), and it is overall a great trilogy.
8. Never Let Me Go by Kazuo Ishiguro
This book was required reading for an English university course I did this year, and it was definitely my favourite. The writing is unique and interesting, despite having seen the film already, and already knowing the majority of the plot.
Never Let Me Go
questions life in the 21st century and is a sad and thoughtful tale of love, friendship and life.
7. Bloodlines Series by Richelle Mead
So I read the whole of the Bloodlines series this year (or what has been released so far). In order they are: Bloodlines, The Golden Lily, The Indigo Spell and The Fiery Heart. Each one just built on the previous to create a fantastic storyline with amazing characters. Bloodlines follows the Alchemist Sydney as she works to protect the Moroi Princess Jill in Palm Springs. This is a spin off series of the Vampire Academy series, and to be honest, it is a much better storyline. Many characters from the original series make appearances, including Rose, Dimitri, Lissa, Christian and Sonya Karp as well as the minor characters who the story focuses on this time. A great read, especially if you have read and loved Vampire Academy.
6. Lola and the Boy Next Door by Stephanie Perkins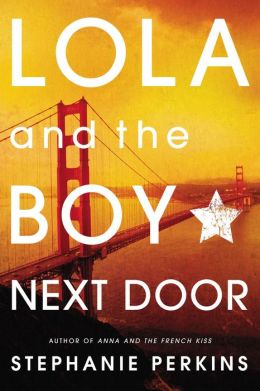 Damn Cricket.
Lola and the Boy Next Door
is the sort-of-sequel to
Anna and the French Kiss
(which may also make an appearance in this list, if you haven't already scrolled down...). It follows Lola as she comes to terms with boys, her Dads, a returning mother and work in San Francisco. Characters from the original novel make a much-welcomed appearance, but this story can easily stand alone. Cricket Bell has returned to the house next door, and brings up everything Lola has kept hidden under her fluctuating fashion sense. A great teen novel with the usual dramas and lovable characters.
5. Shatter Me and Unravel Me by Taherah Mafi
The first two novels in the
Shatter Me
series (or
Juliette Chronicles
, as I've stupidly seen them be called) -
Shatter Me
and
Unravel Me
- are amazing. Equally so (yes I'm breaking the rules). Another dystopian series, this is more like X-Men cross some dystopian series I can't think of at the moment. Juliette has a power - her touch is lethal. This has been a curse for her over her life, and the first novel finds her in solitary confinement for accidentally killing a young child. Over time, Juliette becomes a weapon that both sides want to utilise. She must also come to terms with her love for Adam and the unusual relationship she finds growing with the son of the enemy, Warner. The interesting writing style takes some getting used to, but is so iconic of Juliette and Tahereh Mafi. There are also short novellas to be read and a final novel in the series to be released in 2014! Bring it on.
4. Fangirl by Rainbow Rowell
Why did it take so long for this novel to be written?
Fangirl
is about Fangirls. And if you are one, you will love this book. Cath is obsessed with a fictional version of the
Harry Potter
series, and goes through her first year of university trying to juggle life while continuing to participate fully in the fandom, as they await the final book in the series. This is one of the most relatable books I have ever read, and relating it to my previous obsession with
Twilight
, made me cry several times. I grew with Cath in the novel as I came to realise what life will be like without new
Harry Potter
and
Twilight
books and movies in my life... Loved this book, would reread immediately.
3. Clockwork Princess by Cassandra Clare
The final book in The Infernal Devices series is perfect. It is so good. It wraps up everything perfectly, with just the right amount of sadness and happiness. Tessa, Will and Jem return in the London institute to face the growing problem of the Magister. If you have read The Mortal Instruments and haven't got to this series yet, GET ON IT. This series is gold, so much better than the one it is based on. The characters are much more lovable, and I am so sad that it's all over. Hoping Cassandra Clare's new series will be even better. Also can't wait till City of Heavenly Fire only because of the possibility of crossovers with this series. That is all.
2. Paper Towns by John Green
My second favourite John Green book.
Paper Towns
is unique and perfect. I had so much fun reading it. The characters where more interesting than those in
Looking for Alaska/An Abundance of Katherines
creating a great plot. The book follows Q's last days of high school and his relationship with Margo and his eccentric friends, Ben and Radar. My favourite part was the road trip at the end, which made me feel so nostalgic, and connected to the characters. Fantastic book.
1. Anna and the French Kiss by Stephanie Perkins
Number 1? I'm fairly confident in this decision.
Anna and the French Kiss
is a great book about a girl who attends boarding school in Paris for her final year of high school. It conveys the difficulty of starting at a new school, in a foreign country, without the guidance of her parents. Etienne St Clair is utter perfection and all her friends are deftly crafted and interesting. This book made me want to go to Paris so badly and I will definitely be reading it again before I (hopefully) go. It painted Paris beautifully and was a great back drop to the growing romance in the book. I loved the whole thing, I can't wait for Anna and Etienne to return in
Isla and the Happily Ever After
in 2014. It's a shame these books have such stereotypically teen girl names, they are amazing and should be read by all (maybe not all... but you get the idea). Read it now.

So if you haven't read any of these books, I highly recommend them all. What was your favourite book for 2013? Did I miss yours?